A Dollhouse 2041- A modern evangelium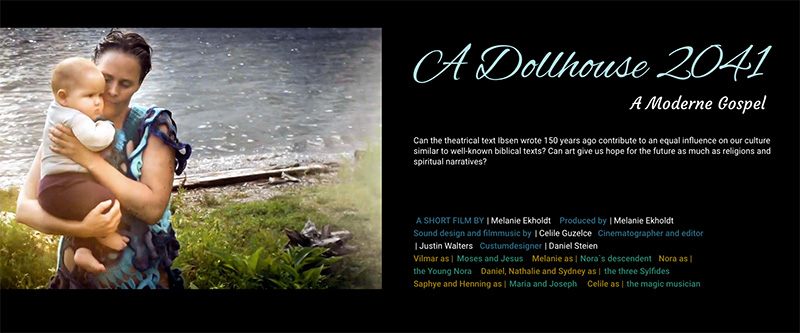 In this modern gospel, we meet Nora's descendants, the Child Jesus and other well-known spiritual figures. What visions does Nora have for the future many, many years after she left Thorvald and her three children? Can the theatrical character Ibsen created 150 years ago contribute to an equal influence on our culture similar to well-known biblic figures?
Can art give us hope for the future as much as religious textes and spiritual narratives? To what extent can art and culture inspire us to imagine positive future scenarios?
| GENRE | Experimental short movie |
| --- | --- |
| PRODUCTION YEAR | 2021 |
| NATIONALITY | Norwegian |
| DIRECTOR | Melanie Ekholdt |
| SCRIPT | Melanie Ekholdt |
| PRODUCER | Melanie Ekholdt |
| FILM MUSIC COMPOSER | Celile Guzelce |
| DIRECTOR OF PHOTOGRAPHY EDITOR | Justin Walters |
| EDITOR | Justin Walters |